On March 14th, 2017 JasonConnell.co turned one year old.
In that time, readership has grown from a few hundred monthly readers to, 66,029 as of last month. Along the way I learned much more about life, writing, and marketing than I ever expected to. Here are the big takeaways:
The life lessons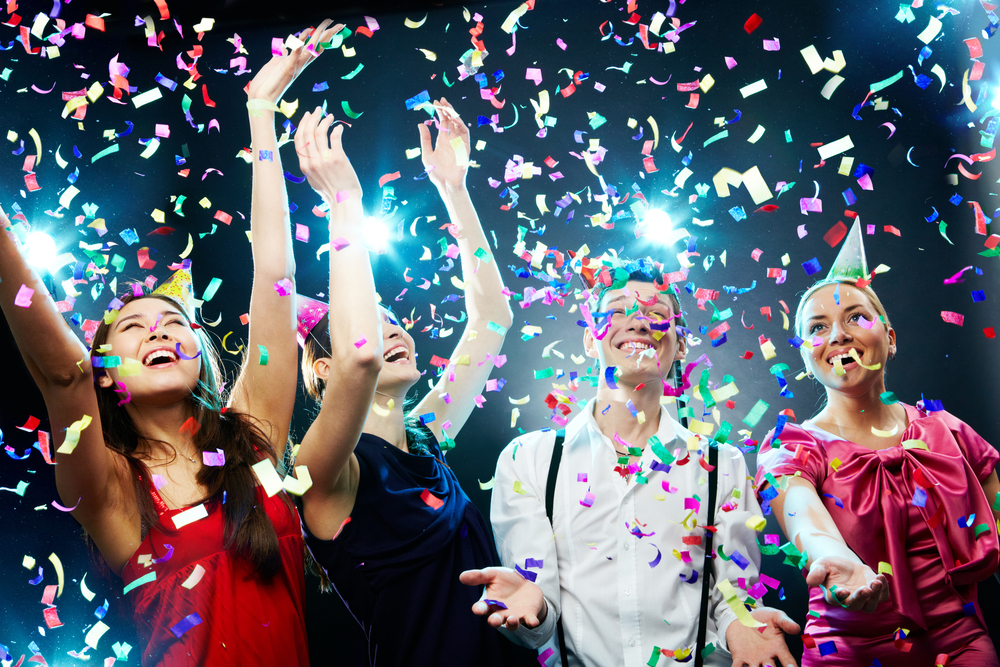 It's ok to have haters, what matters is how you handle them. The trick is to be thoughtful in how you deal with them. Personally, I try to avoid engaging. When the haters manage to get under my skin, which happens more often than I'd care to admit, I usually call my brother who is quick to comfort me and mock the offender.
While it's tempting to engage with your detractors (including killing them with kindness), I'm not sure there's a huge advantage in doing so. Both time and energy are finite resources; I'd rather channel mine into something more productive than arguing with people who think I'm an idiot.
If you can see the first step, take it – even if you can't see the second. When I launched JasonConnell.co I only knew two things:
1) I was done being a professional speaker (at least for a while)
2) I really wanted to invest my time in writing
I had no idea where my income or readers would come from, I just knew I needed to do it. Rationally, that doesn't seem like enough information to make a big life decision, yet, it felt right.
So here's how it all played out:
Forty-four days after launching this blog my first coaching client came to me.

After about three months, I was making enough to support myself.

After six months, two partners approached me about consulting for authors and thought leaders who want to become professional speakers.1 Right around the same time coaching started to feel wrong,2 so I quit coaching to focus exclusively on writing and consulting.

Today, my life is better than it's ever been. Had I not taken that first step because I was unable to see the second, I wouldn't have gotten to

this moment

.
A very related lesson: sometimes you have to walk down the wrong path before you can find the right one. Though full-time coaching wasn't right for me, I had been curious about it for a few years and needed direct experience with it before I could let it go.
Without good people in your life, success will feel meaningless and failure will feel crippling. If you have the audacity to chase your dreams, brushes with both success and failure are virtually guaranteed.  The question is, how do you handle them? Most people are quiet about their successes and even more quiet about their failures.
I've learned that both moves are mistakes. Success should be celebrated and shared with the people who contributed to it. Celebration makes everyone feel good and amplifies their energy, setting everyone up for an even bigger success in the future. Failure, too, should be shared – even if it's only to help dilute the feelings of inadequacy and brainstorm a new approach.
Play the long game. Though it's taken me a long time realize this, I've learned that moving slowly and thoughtfully is the fastest way. While it lacks the adrenaline of chasing overnight success (which is probably a myth anyways), it offers stability, abundance, and a calm sense of control.
The writing lessons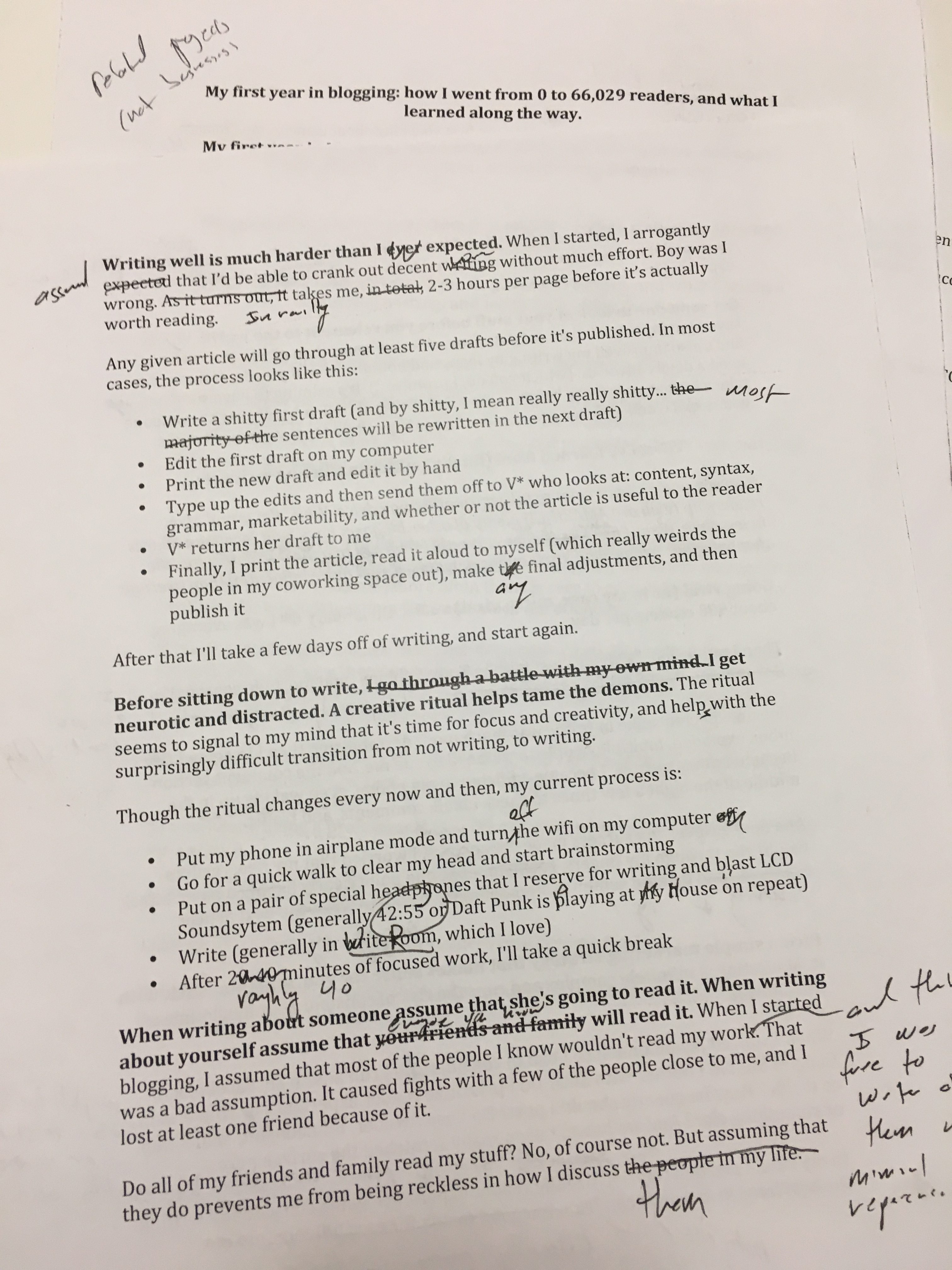 Writing well is much harder than I expected. When I started, I arrogantly assumed that I'd be able to crank out decent writing without much effort. Boy, was I wrong. In reality, it takes me 2-3 hours per page before I've produced anything worth reading.
Any given article will go through at least five drafts before it's published. In most cases, the process looks like this:
Write a shitty first draft (and by shitty, I mean really, really shitty… most of the sentences will be rewritten in the next draft)

Edit the first draft on my computer

Print the new draft and edit it by hand

Type up the edits and then send them off to V* who looks at content, syntax, grammar, marketability, and usefulness to the reader

V* returns her draft to me

Finally, I print the article, read it aloud to myself – which really weirds the people in my coworking space out – make any final adjustments, and then publish it
After that I'll take a few days off of writing and start again.
Before sitting down to write, I get neurotic and distracted. A creative ritual helps tame the demons. The ritual seems to act as a signal to my mind to be focused and creative, and it facilitates the surprisingly difficult transition from not writing, to writing.
Though the ritual changes every now and then, my current process is:
Put my phone in airplane mode and turn off the Wi-Fi on my computer

Go for a quick walk to clear my head and start brainstorming

Put on a pair of special, writing-only headphones and blast LCD Soundsystem on repeat.  My go-to choices are "45:33" or "Daft Punk is Playing at My House" on repeat.

Write (my favorite platform is

WriteRoom

)

After roughly 40 minutes of focused work, I'll take a quick break to check my phone and email, and then resume writing
When writing about someone, assume that she's going to read it. When writing about yourself, assume that everyone you know will read it. When I started blogging, I assumed that most of the people I know wouldn't read my work and that I was free to write about them with minimal repercussions. That was a bad assumption. It caused fights with a few people close to me, and at least one friendship.
Do all my friends and family read my stuff? No, of course not, but assuming that they do prevents me from being reckless in how I portray them.
At a deeper level, I realize that when I write about someone, I'm forcing them into the public arena. It can be extremely uncomfortable to read about yourself if you're not expecting it.
Get someone to look at your stuff before you release it to the world. V* has saved me from making an ass out of myself more times than either of us can count. She's also improved my writing by leaps and bounds. Even if you don't think you need a devil's advocate it's calming to have someone you trust look at your work before it goes live. The real trick is to give that person permission to candidly tell you that your work sucks.
The marketing lessons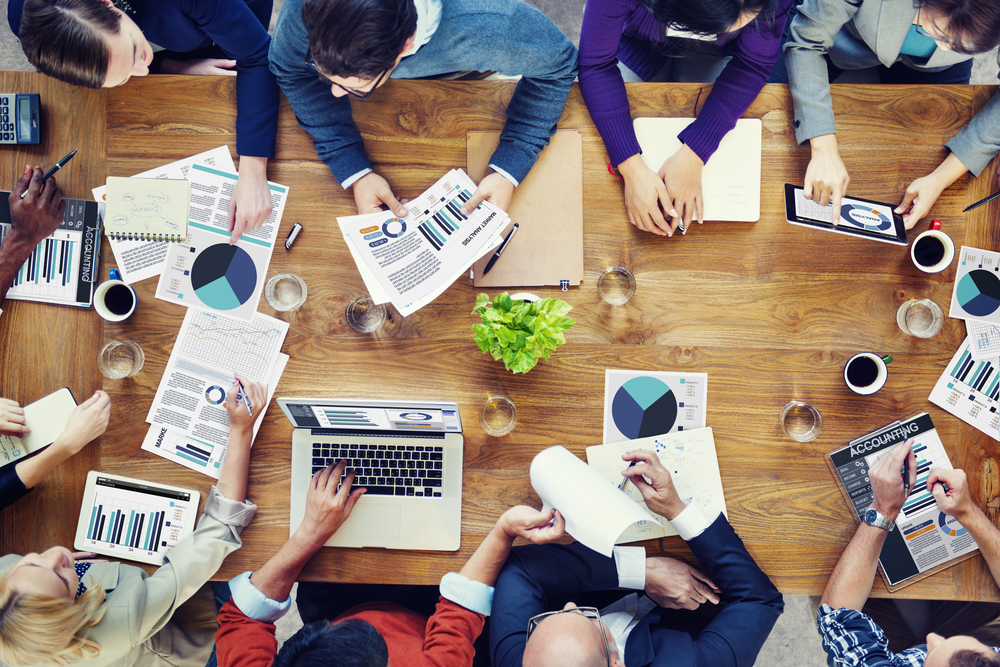 A caveat: you may not want to take my marketing advice. While I'm proud of my readership (y'all are AMAZING!), plenty of other bloggers have built larger audiences in less time. What I've arguably learned to do better than most is appeal to a very specific demographic: people who are intelligent, cultured, and more influential than average.
Going micro-viral sucks. On January 8th, I was averaging about 900 readers per day.  On January 9th, I published this article and suddenly averaged 20,000+ readers per day for about a week.
The unexpected spike in traffic was much more destabilizing than I imagined. My inbox exploded, multiple people threatened to sue me, and the comment section was unmanageable. I became addicted to my phone, even waking up in the middle of the night a few times to check email, comments, and traffic.
At a deeper level, the success made me neurotic. I worried that my new readers would slip through my fingers. The pressure to produce another viral article nearly caused a panic attack, leading me to write and promptly delete sentence after sentence for well over an hour.
Pick a simple marketing strategy that makes sense for you, and then stick with it. Marketing is infinitely complex and runs the risk of consuming as much time as you allow it.
When I started JasonConnell.co I had to consider whether or not to run ads. If I did, Facebook or Google? Should I bother with SEO? Do I prioritize reader experience, conversion, or traffic? How frequently should I post? Do I use Aweber, Infusionsoft, Mailchimp, or something else? And we haven't even really scratched the surface here.
In my case, I decided to prioritize the reader experience while consistently writing the best longish articles I could and nothing else. The bet I placed was that consistent, high quality work might be able to stand on its own, even in today's hyper-saturated marketplace. Literally every reader and client I've gotten from JasonConnell.co came from that bet. To date, I haven't invested any time in SEO, sales funnels, or social media advertising.
Could I get more traffic if I optimized my site, bought Facebook ads, and spent more time guest posting, syndicating, and interacting with online communities? Absolutely, but that sounds exhausting. For me, it's not about maximizing success; it's about building a life I love.
Footnotes
To be transparent, this opportunity did not come from the blog, it came from my experience as a speaker. The funny part is that I suspect my blog hinders this project, because I periodically write about how difficult being a pro speaker was for me.