April, 2014 at a small conference in Toronto: I know that I'm on the wrong path in life, but I don't know how I'm supposed to find the right one.
One of the speakers at this conference is a Hindu monk who dedicated years of his life to meditation. He seems to have deep insight into the human condition. You can almost feel his presence in the room.
Another speaker is a billionaire. He knows more about the world of business and commerce than anyone I've met.
It's a very intimate conference and I have the opportunity to chat with them one-on-one.1
Separately, I told the monk and the billionaire, "I'm lost right now. I'm modestly successful, but it feels wrong. How do I find my path?"
I assumed that both men would offer very different answers. To my shock, they gave nearly identical suggestions. It felt like I discovered the secret to success. I was giddy.
Here's the path they laid out:
1)   Spend time getting to know yourself and your authentic desires. Use open-ended questions to search deep within yourself. For example:
How would your life change if you suddenly inherited $100,000,000 dollars?

What would you do if you only had six months left to live?

What do you want your life to be like when you're 90?
They both advocated taking this process slowly. They promised that with reflection comes clarity.
For several months, I spent Sunday mornings in a café with just a pen and paper to learn more about myself.
2) As you start to connect your vision, describe it in lucid detail. This can be done with words, magazine clippings (think vision boards), clays, paints, or whatever medium resonates with you.
Personally, I like writing, so I described the life I wanted in words. It involved growing my speaking business, vacationing in Costa Rica, giving back to the homeless, and building a thriving social circle.
3) Once you have a clear vision, reverse engineer it. In other words, figure out how to get from point A to point B.
If you want to become a rock star, perhaps you begin by researching different instruments. Then, you buy a guitar. Next, you learn how to play it. After that, you make a few musician friends….
The important part is to have each step lead to the next.
With time I figured out how to increase my stature as a speaker, book a trip to Costa Rica, work with the homeless, and host weekly dinners at my apartment.
4) Finally, take action. If you fail at any point, return to your vision for yourself. Let your vision flood you with energy, inspiring you to overcome your setbacks. Continue taking action.
Both the monk and the billionaire found success following this path.
The monk claimed (and seemed) to be content. He felt he was on the path to enlightenment. The billionaire claimed (and seemed) to be happy and felt like the world was his oyster.
So what happened when I tried this?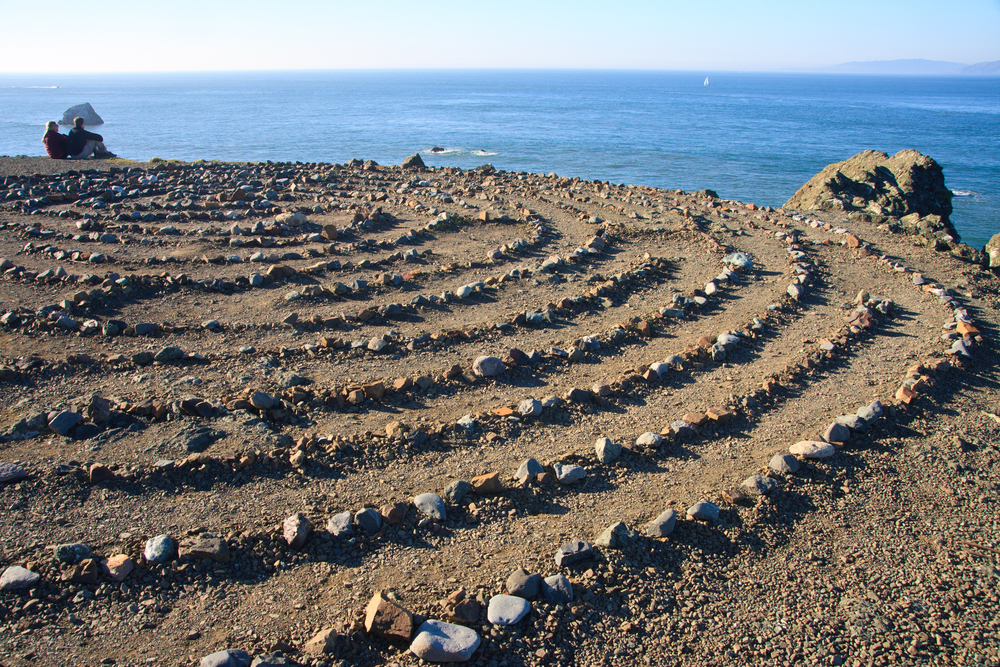 I followed this path for two years. In that time, I achieved almost everything I set out to.
But through the entire process, I felt weirdly hollow. More than that, I still felt lost.
It's not that the path the monk and billionaire laid out didn't work.
Though it made me successful, it wasn't my path. The moment I tried to follow their paths, I unintentionally departed from my own. If your goal is to fully engage with life, you can't follow someone else's path; you have to blaze your own.
Think about it for a moment. Truly successful people tend to have two things in common:
They are passionate about their pursuits (which boils down to

self-awareness

and

self-confidence

)

They blaze their own trails, allowing their lives and their work to be expressions of their truth.
Barack Obama, Mother Teresa, and Steve Jobs all changed the world, but they did it in dramatically different ways. They did it their way.
When I realized that the monk's and billionaire's paths wouldn't work for me, I tried something else. I paused and asked myself, "Do I know what the first step on my path is?"
I did.
In fact, I knew the first few steps. They were: end a relationship, leave a city, and quit a job.
If you look deep within yourself, you're likely to find the first step on your path. If you can't see the second step (and often, you can't) trust that it will appear after you've taken the first. And if you can't find the first step, take a step – any step. Sometimes you have to walk down the wrong path to recognize the right one when it appears.
Your job is to stumble around until you can tell which way is forward. From there, trust yourself…
Footnotes
You may be asking, "How the heck did Jason manage to get invited to a conference like that?" I was asking the same thing. Honestly, I am the exact opposite of a self-made man. Yes, I work hard. Yes, I try to care about my clients more than most consultants. But still, virtually everything I've done that succeeded was a result of the people who invested in me. In this case, one of my friends worked hard to get me an invitation to this life-changing conference. I remain extremely grateful.