From August of 2013 through March of 2016, on paper, I was leading a dream life. It was the peak of my speaking career. I made more in a night than most of my friends made in a month. I had a global waiting list of clients. When I travelled for work, it was on someone else's dime, often in luxury. And in its own little way, I felt like my work was helping people.
I trained Fortune 500 executives, university presidents, professional athletes, psychologists, best-selling authors, and senior members of multiple governments. In a particularly surreal moment, I even advised a member of President Obama's Cabinet.
This was a dream come true for me. I remember watching a professional speaker in high school and thinking to myself, "Wow. That's so cool that he makes a living giving speeches. I wish I could do that!"
Yet, in March of 2016, at the top of my game, I left professional speaking.
I've never shared the full story about why I chose to leave speaking, not even with my closest friends or family. When people asked me why I quit, I mumbled something about being burnt out from the perpetual travel and the demands of being on stage, but that wasn't the whole truth.
I didn't quit speaking for the reasons you expect. There was no hidden drug addiction, financial mismanagement, debilitating anxiety, or psychological collapse.
Instead, this is a story about how something I used to love took over my life as I became increasingly successful. Though it took me a while to understand what happened, something that started as dream come true turned into something that prevented me from living the life I wanted to live.
My aim in sharing this story is to help speakers cut through the inherent isolation of the job. I also hope to help emerging speakers avoid the mistakes I made. Along the way, I'll share tips about how to build a thriving speaking business. I'll conclude by discussing what I learned about success when I had to start a 40 date speaking tour days after one of my friends died.
Live performances are more isolating than anyone realizes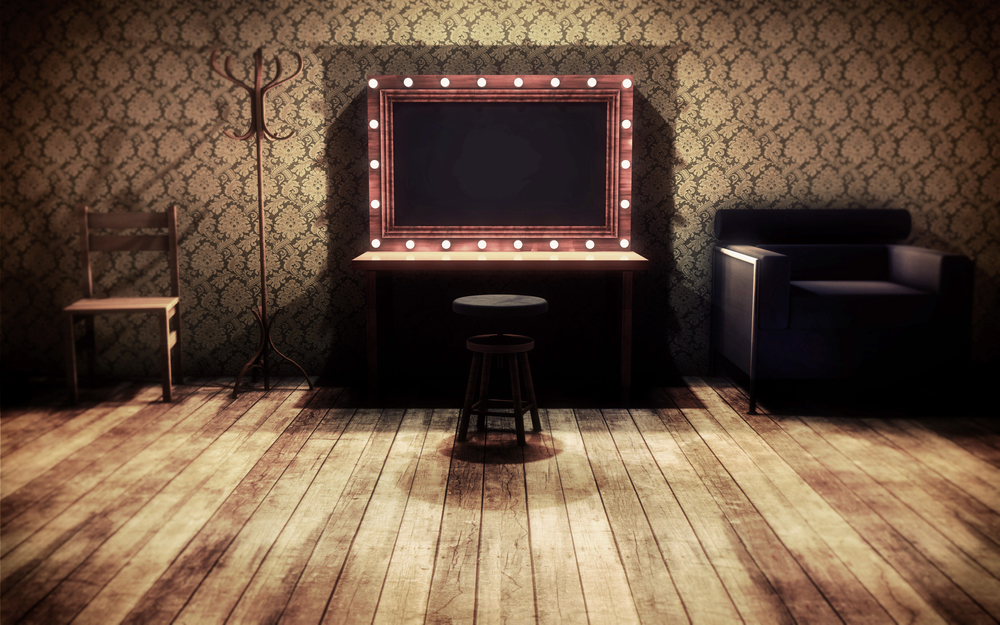 To be a successful speaker you have to understand something simple but often unnoticed about modernity: nearly all of the information in the world exists online for free.
That means that when someone goes to hear a speaker speak, she isn't really interested in the information that the speaker is going to share (even though she may think she is). What she's really interested in is how the speaker will make her feel.
In other words, the speaker's job is to inspire intense feelings for the people in her audience. The more precisely she can create the feelings that her audience has been yearning to feel, the more successful she'll become.
To do this, I spent months writing and testing material. I shared deeply personal stories that required earnest vulnerability. I obsessed over the talk's structure and flow so that I could create a strong emotional connection with my audiences.
When I was on stage performing the speech I wrote, it felt like I was opening a vein. I wasn't just sharing the bleeding edge of my life's work; I was sharing every ounce of who I am. Though it can be difficult for people who haven't spent much time on stage to understand, when you approach speaking like this, you end up falling in love with your audiences and yearning for them to love you too.
If I had the chance to truly get to know the individuals in my audiences, this would have been an amazing, deeply intimate shared experience. But of course, it's impossible for a speaker to get to know each person. There's one of me and hundreds of them.
After opening myself to audiences for years on end, it felt like I created thousands upon thousands of one-way relationships with people around the world. Though some speakers don't seem to struggle with this, I did. I used to go back to my hotel room after a speech feeling hollow and lonely. In fact I used to tell my friends that working as a speaker made me feel like a high-end prostitute for people's emotions. Though they laughed, I wasn't joking.
If this only happened once or twice a year, it would be a non-event, but this was my job for nearly a decade. It happened every week.
The lifestyle creates a penetrating type of loneliness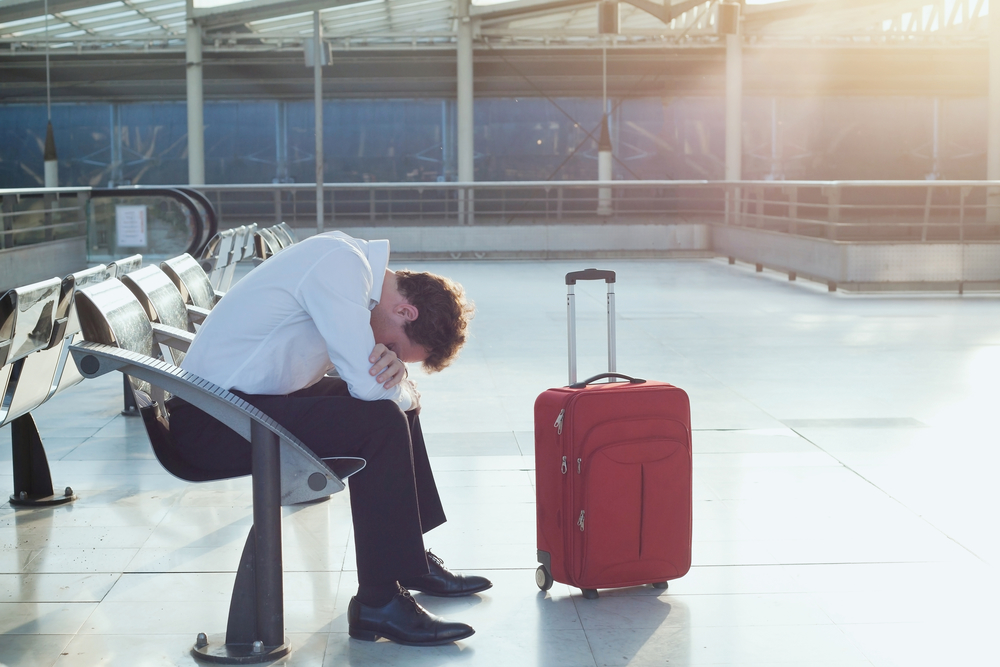 The first time I saw the George Clooney film, "Up in the air," I started crying because it hit so close to home. At my peak, I spent over 200 days a year on the road. I missed countless amazing events with friends and family. I spent so much time away that some of my friends just stopped calling. When I was home, I was often so exhausted that I didn't have the energy to spend quality time with people I love.
I experimented with different ways of solving this problem. I invited my friends and girlfriend to come with me when I travelled. I offered discounts for speeches in cities where my friends and family lived.
Unfortunately, it didn't work. When someone came with me to an event, I felt torn between two worlds. On one hand, the event was literally paying for my presence and attention. On the other hand, by paying full attention to the event, I was neglecting the person I brought with me. When I spoke in cities that friends lived in, I rarely got to spend good time with them; most of my time was spent recovering or prepping for the next event.
However, I did find one solution that worked well: incentivizing clients to hire my speaker friends to speak with me. Pulling this off required a small miracle (the client needed a budget, and the friend needed to be available and a good fit), but when it worked, it was amazing. Though this only happened a few times, it consistently created some of the most positive experiences I've ever had. In fact I remain enthusiastic about speaking at conferences that my friends are speaking at.
Touring makes mental and physical health borderline impossible
Several things that are bad for your health: having extreme levels of stress and neglecting diet, sleep, and exercise. Unfortunately, professional speaking requires all of them.
Even if you're fairly confident on stage, there are so many moving pieces that public speaking can't help but become an extremely stressful experience.
A very abbreviated list of details that working speakers need to keep track of while traveling for work:
Getting to the airport on time

Having a backup plan for missed, delayed, or cancelled flights

Ensuring that there is a driver or rental car waiting for you at the airport

Remembering personal details about your client and her life (when someone spends a lot of money on you and trusts you to speak at their event, they get offended if you don't make them feel cared about)

Verifying that there are no mistakes in your slides and that it is customized to your audience

Making sure that the batteries in your mic and clicker are fresh

Understanding the logistics well enough so that you can get to the venue in time for your first event (often a dinner with the sponsors for which you're expected to be "on") and that you can return to the airport in time for your next flight

Remaining pleasant and playful towards all of the people you meet throughout the event (again, if you can't show up generously and enthusiastically for the people you're working with, you're doing it wrong)
And then of course, there's that 60-minute talk that you have to know cold and be confident performing in front of hundreds or sometimes thousands of people.
While all of these things are going on, you'll also have to deal with the annoying reality that you can't maintain your diet, exercise, or sleep on the road as well as you can at home.
In moderation, the demands of giving a speech can be pretty exciting and the departure from your normal wellness habits is trivial. But when you do this every single week, it becomes deadening.
Speaking for small crowds in big rooms is common. It's also mortifying.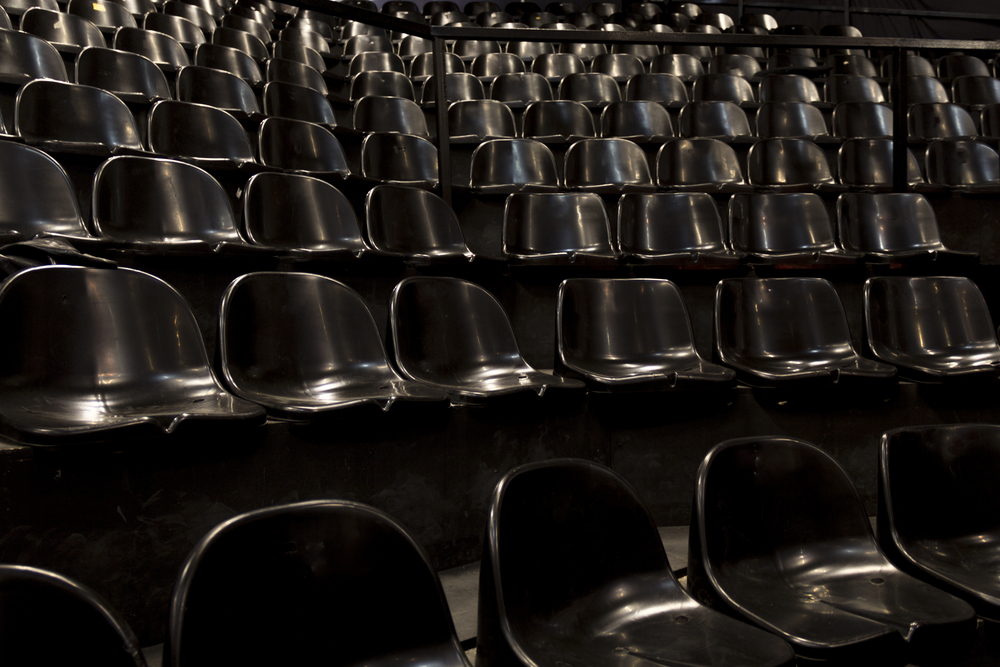 Any business owner deals with an insane amount of rejection in the form of unreturned calls and emails, unsolicited criticism, and straight up, "No's."
For speakers -and anyone else selling themselves-  this rejection runs the risk of feeling extremely personal. If you don't learn to untangle your professional identity from who you truly are, you run the risk of being eaten alive by the world.
After a year or two, I learned to detach myself from most forms of rejection. Still, there was a subtle form of rejection that I could never get over, and it mortified me every time it happened: speaking for small crowds in big rooms.
There is a huge difference between speaking for 100 people in a room designed to hold 75 and speaking for 100 people in a room designed to hold 500. Even though the number of people attending remains the same, the feel is completely different.
Speaking for 100 people in a small room will make you –and the audience- feel amazing. The energy and excitement will be almost tangible. Speaking for 100 people in a huge room will make you feel like an embarrassment. It's impossible to ignore all of the people who were expected to show up, but didn't.
On any given night, I ran the risk of dealing with something that felt terribly embarrassing, and often I did end up playing for small crowds in big rooms. In fact, there were three speeches where the event coordinator was planning for at least 200 people to show up, but fewer than ten showed up. Yeah, that sucked.
While there are ways to pivot around this problem (like turning an unexpectedly small event into an intimate conversation), it's still horribly embarrassing. Unfortunately, this is a problem that all non-celebrity speakers have to cope with.
Ultimately, my heart was no longer in it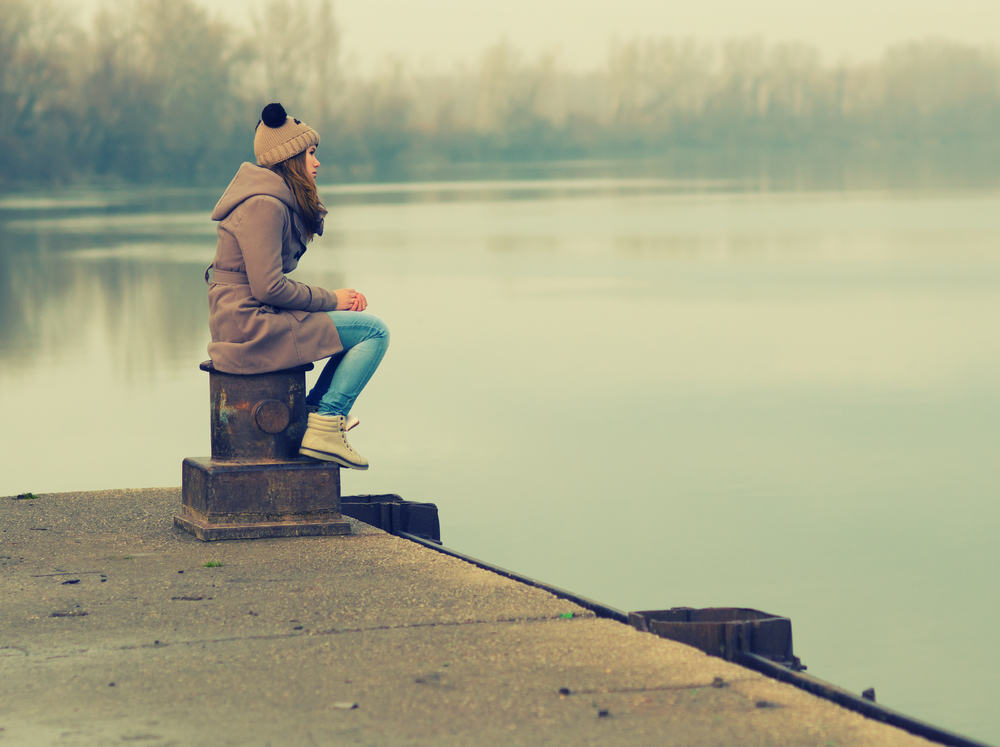 I don't know exactly when it happened, but all of the above problems blurred together and left me feeling depressed about my job. Though I loved the hour or two I spent on stage and the time spent with my clients and audience members, I dreaded everything surrounding it. I especially hated the way it took me away from my personal life.
I also lost faith in the idea that giving a one-hour speech is a good way to change the world. Can it be done? Yes, of course, but it only seems to happen once every few decades.
Will I give speeches again in the future? Absolutely. There's a lot of things I love about speaking, but it is unlikely to ever be my primary professional focus again. For me, the price isn't worth the cost.
It's been eight months since I gave my last professional speech, and truthfully, I don't remember the last time I was this happy.
Advice to emerging professional speakers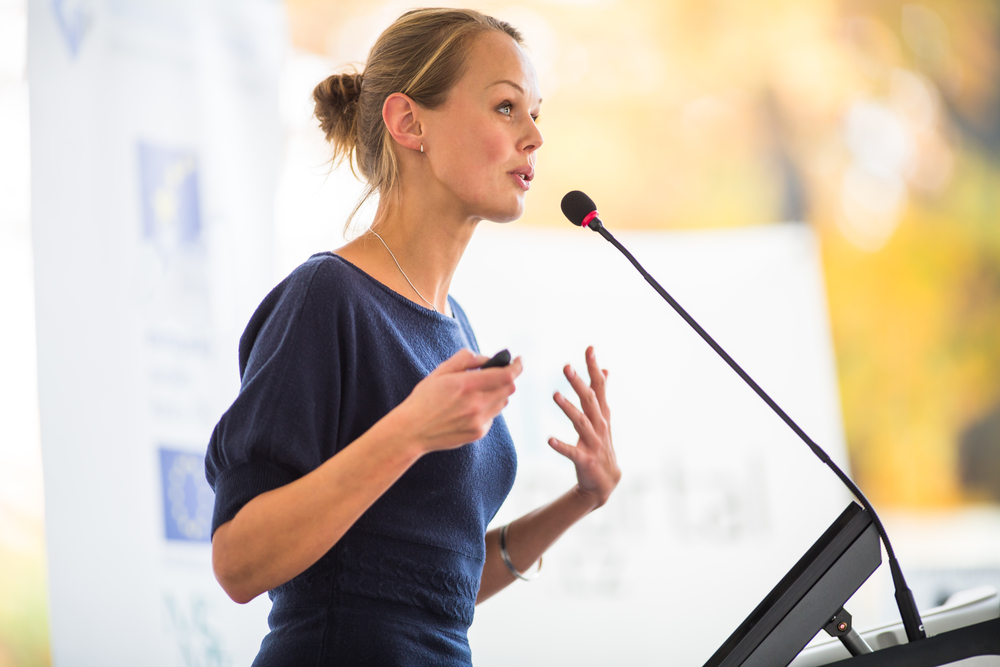 I know that many people want to pursue a career in professional speaking, and I get it. Though I'm glad I left, I'm very grateful that I pursued it for as long as I did. For those interested in building a speaking business, here are my best tips:
Be honest with yourself about your motives: though few are willing to admit this, most people who are drawn to speaking are driven by the desire for validation. They believe that approval from audiences or clients who fly you around will make them feel worthy and successful. I'll save you a lot of time and heartache: if you're primarily motivated by the validation or money, don't waste your time. The only speakers who succeed long term are the ones who want to give back to the world through speaking. If you're just looking for money and accolades, there are far easier ways to get them.
Focus on a centralized market. I spoke on very niche topics: leadership for millennials and self-compassion for high performing individuals. Though there is an active market for both of these topics, it's decentralized. This means that I had to travel for most of my gigs.
It's entirely possible to make a healthy living as a speaker without ever getting on a plane. The best way to do this is to speak about a topic that has a broad appeal (sales, leadership, business, or personal development), and focus all of your sales and marketing efforts on local or regional markets.
Develop a complementary source of income. One of the main reasons I spoke as much as I did is because it was my only source of income. You can increase your earnings by having a book, course, product, coaching sessions, or consulting services to offer your audience. In fact, the only speakers I know personally who make more than $250,000/year are those who sell additional products or services.
Try to take both praise and criticism impersonally. Love and validation are not things that you need to earn; they are things you must search for within yourself. You are not your business. It's ok if some people don't love you. Conversely, even if you get standing ovations every night, this does not excuse you for being a jerk to your brother.
In the beginning focus on two things: sales and your speech.  Social media, branding, networking events, your logo, a fancy website, and all of that other stuff is a waste of time when you're starting. Focus all of your attention on developing the best speech that you can and selling yourself. Many speakers go to great lengths to avoid selling themselves. Let me make this easy: selling yourself is unavoidable, so you might as well start now.  No amount of twitter followers or Facebook likes will change that.
Continually invest in your ability as a speaker. To be blunt: most people who think they are good speakers, aren't. Holding an audience's attention for an hour and leaving a client feeling like that hour was worth thousands of dollars is exceptionally difficult. Even if you are an amazing speaker, you should always work to refine your craft and provide a better experience to your audience. Study improv comedy, standup comedy, storytelling, acting, and screenwriting. If you can find a good speaking coach (unfortunately, they're rare) work with her.
Post Script: what you learn when your life collapses right before a national speaking tour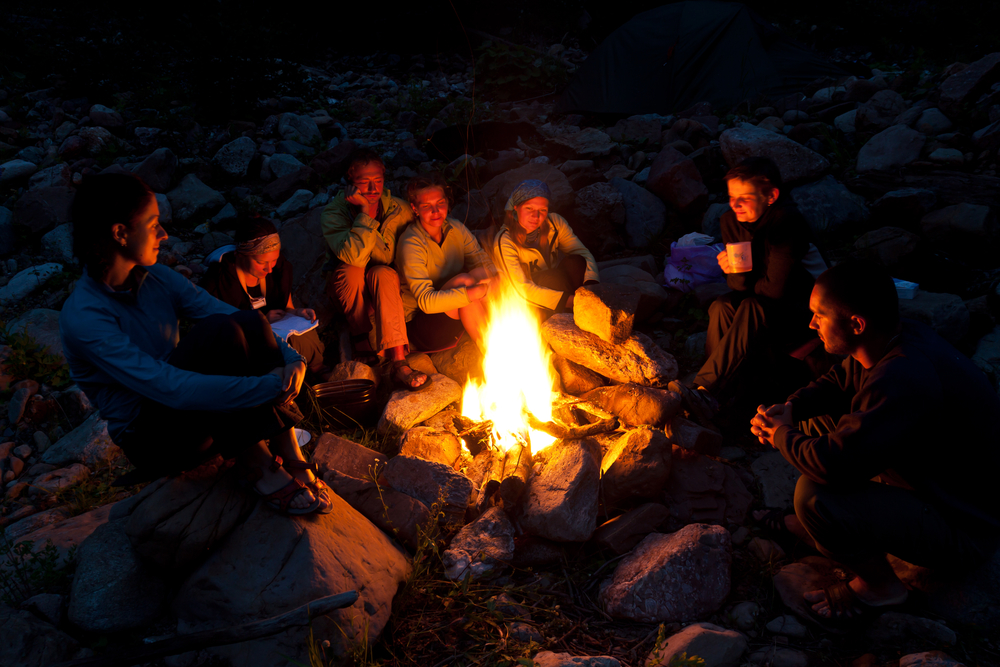 In July of 2013, my personal life collapsed. My girlfriend of several years and I broke up, my best friend moved away, and a close friend died. All this happened in one month's time. I was a wreck. For days on end I drank myself to sleep and struggled to get out of bed.
One month later, in August of 2013, my professional life flourished. I began a 40 date speaking tour that would take me across the United States and back. I was more successful than most speakers could ever dream of.
These side-by-side experiences allowed a very rare glimpse into the reality and power (or lack thereof) of success.
I learned something that I still cherish today: my personal life is far more valuable than my professional life. The success that I had worked so hard for did nothing –literally nothing– to alleviate the pain I was experiencing.
I learned that I would rather build my life around my relationships and figure out how to fit my work in afterwards. I learned, cliché as it is, that status is no replacement for physical and mental health.
I learned that, at its best, success will magnify how you already feel about yourself. At its worst, it will chew you up, spit you out, and walk away with no regard whatsoever for your well-being. So pursue the projects that you care about; in fact, pursue them with as much of your heart as you possibly can. Just don't fall into the modern trap of believing you can enjoy life without time for the people you love.